Planning
Plan your events effectively by improving communication, team activities, and timely control of your budget. 
Sign up for free
You're always up to date!
Ensure your team is aligned to the same goals.
Encourage collaboration and teamwork
See all communication in one place and encourage the exchange of ideas and collaboration of your team, while reducing time spent on meetings.
Find any communication or agreement easily
Forget to review notebooks, emails, chats and posts on different social networks to find previous conversations. It is better to keep them all in Ticketopolis, and access the log anytime.
Avoid information leakage in your company
Stop communicating on open social networks, especially if it's strategic or confidential conversations. Instead, collaborate only with your team privately and safely.
Communicate your ideas easily
Share images, photos, documents, presentations, youtube videos, links, etc.
Optimize your time! Schedule and organize your activities
Improve your event's planning by controlling the execution of tasks and activities to do, for you and your team.
Free up your memory
Keep your appointments, activities and things to do in one place.
Set the deadline for completion.
Assign one or more responsibles.
Describe the task.
Update the status of each task.
Receive a notification when someone assigned you a task.
Save time planning new events
At the end of the event, you can copy the activity log and use it as a basis for future events.
Make sure things are done
Assign or delegate tasks (to one or more users), set a deadline, and receive a notification when it's completed.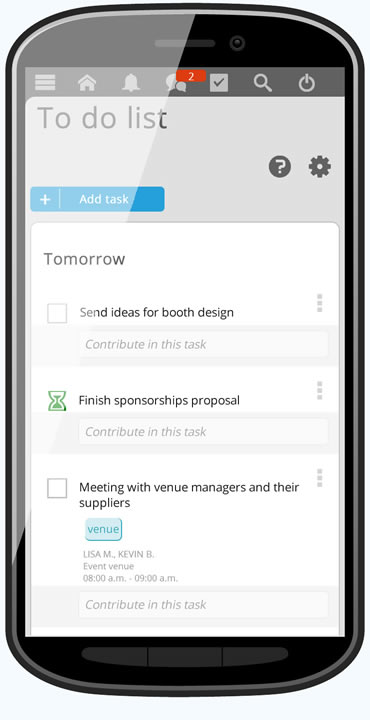 Generate and effectively manage your budget to maximize your profits
Identify your financial situation and make better decisions by analyzing multiple variables in a comprehensive way.
Control expenses in a timely manner
Generate a budget that helps you easily visualize your expenses and calculate how much revenue you need.
Make better decisions by easily analyzing multiple quotes per item.
Make decisions more easily
Analyze quotes, brochures, photos, videos, etc.
Consider the prior evaluation of the supplier, or its performance over the time.
Consult your team's observations or recommendations.
Budget future events quickly and easily
Save time when budgeting new events based on past budget history.
Take control of your quoted and actual budget.
Start selling tickets TODAY!
Sign up in less than 5 minutes, and start selling immediately. 
Sign up for free